Significance of Uduwap Poya | උඳුවප් පොහොය දිනයේ වැදගත්කම්!
On this day, the Significance of Uduwap Full Moon Poya has fallen at the end of the standard year and become a special day for the entire Buddhist community due to many such special events.
Southern Branch of the Jaya Sri Maha Bodhi sapling
Meanwhile, at the invitation of King Devanam Piyathisa with the concurrence of Arahant Mihindu, Sangamitta Theraniya and several members of the royal family who had entered the Sasanaya brought a sapling from the Southern Branch of the Jaya Sri Maha Bodhi into Sri Lanka. Meanwhile, the contingent landed at Dambakolapatuna port.
Sangamitta Theraniya was the daughter of "Emperor Asoka" and the sister of "Arahant Mahinda". Arahant Mahinda who has brought Buddhism to Sri Lanka on Poson Poya day.
The sapling was planted by "King Devanampiya Tissa" in 288 BC at the Mahamevnawa Park in Anuradhapura, Sri Lanka. The sapling still grows healthy today. However, this makes it the oldest living human-planted tree in the world with known planting date.
Establishment of Lakdiva Bhikkuni Sasana
Meanwhile, Goddess Anula and other women who had received the Sovan fruit became Sasanas and started the Lakdiva Bhikkuni Sasana.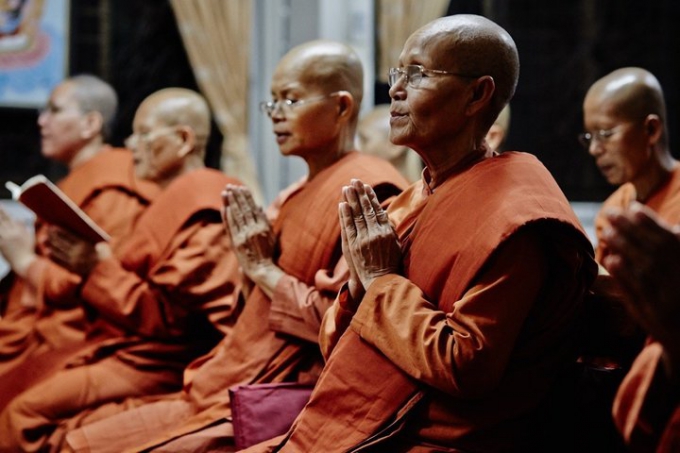 Establishment of Sri Pada Pilgrimage Peace
The peaceful beginning of the pilgrimage to Sri Padasthana, which is revered by the left foot touch of the Supreme Buddha, takes place on the day of Unduvap Poya. At the invitation of Lord Sumana Saman, five hundred Arahants accompanied the Supreme Buddha to Samanala Kanda. With the end of the during Vesak Poya day, the peace of the Sri Pada pilgrimage comes to an end. However, it will begin again in the next Uduwap Poya day.
Dhamma Alms
May these Dhamma alms be the reason for engaging in the Dhamma of merit and attaining the eternal Nirvana beyond the Sasara during this time of Enlightenment, when the nobleman with the instantaneous wealth has received a soul!